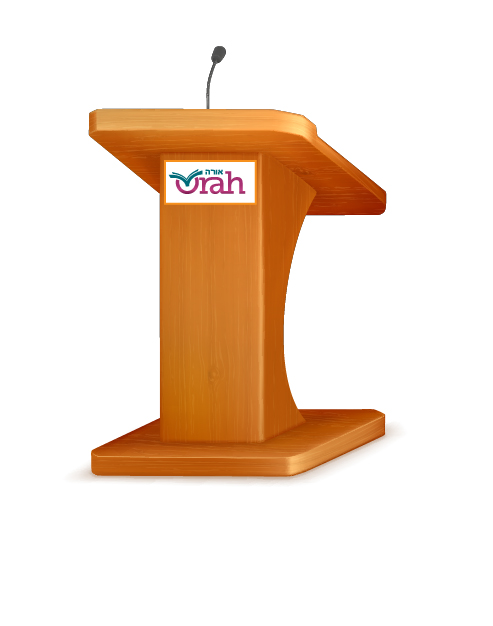 Some of the many speakers who have spoken for Orah include:
Rabbi Shlomo Farhi: Director of Aish UK's Schools Division.
Rabbi Raphy Garson: Rav of Ohr Yisrael Synagogue, Elstree.
Rabbi Jeremy Golker: Director of Kodesh, Hasmonean Girls School.
Rabbi Yaakov Hamer: Rav of Bridge Lane Shul, London; Director of Shaarei Orah Institute.
Rabbi Ilan Halberstadt: Educator in Hendon, London; son-in-law of Rabbi Dr. Akiva Tatz.
Rebbetzin Ruthie Halberstadt
Rabbi Yehoshua Hartman: Rosh Beis HaMedrash, Hasmonean High School, London; author of multi-volume Machon Yerushalayim edition of the Maharal of Prague's works.
Rabbi Malcolm Herman: Associate National Director at seed, UK.
Rabbi Aubrey Hersh: Senior Lecturer at the JLE, London; experienced historic European tour guide.
Rabbi Shmuel Kimche: Rav of Netzach Yisrael, Hendon; Director of Ezra Youth Movement, UK.
Rebbetzin Esti Kimche
Osher Chaim Levene: Founder and Director of Orah; author of Jewish Wisdom in the Numbers (ArtScroll: 2013) and other works.
Rabbi Yehoshua Posen: Dayan on the Golders Green Beis Din; accredited Commercial Mediator specialising in monetary matters.
Rabbi Meir Rapoport: Rav of Imrei Shefer, Golders Green, London.
Rabbi Dovid Roberts: Rav of Kehillas Netzach Yisroel, Edgware.
Rabbi Yonoson Roodyn: London-based rabbi at Aish UK.
Rabbi Daniel Rowe: Education Director at Aish UK.
Rabbi Yitz Sandler: Formerly Director of Education at Aish South Africa and Director of Development at Aish UK, Edgware.
Rabbi Shimshon Silkin: Rav of Beis Yisrael, Borehamwood.
Rabbi Dovid Tugendhaft: Rav of Nishmas Yisrael, Hendon.
Guest speakers at Orah have included:
Rabbi Lazer Brody
Mr Charlie Harary
Rebbetzin Tzipora Heller
Rabbi Dovid Kaplan
Rebbetzin Sara Yoheved Rigler
Rabbi YY Rubinstein
Rabbi Dr. Akiva Tatz
Rabbi Ezriel Tauber
Dr. Meir Wikler
Rabbi Zecharia Wallerstein
Rabbi Shimon Winegarten