Inspired by the Ohr Naava programme in New York, Orah was launched in Northwest London in January 2012.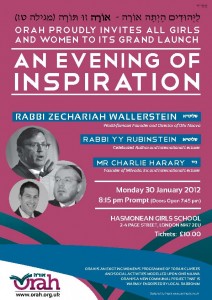 Orah was established as a communal project to cater for women and post-seminary girls in the London Jewish community. The initiative that was warmly endorsed by local rabbonim.
The inspirational launch on 30 Jaunary 2012 was an unforgettable evening to a jam-packed hall of ladies featuring three international guest speakers: Rabbi Zechariah Wallerstein, Rabbi YY Rubinstein and Mr Charlie Harary.
The evening was introduced by Osher Chaim Levene, Founder and Director of Orah, who launched a series of weekly shiurim given by a wide range of speakers covering a variety of topics.